Features Of the Vuber Pulse Touch
Beautiful ergonomic design, lightweight, easily fits in the palm of your hand

Two operation modes: draw-activated and manual 'power boost' mode

Automatically adjusts voltage for optimal vaporization

Patented Pending "Never Burn" technology tapers heat for best flavor

Fits all 510 thread oil cartridges, just screw in and you're ready to go

High protection value for your cartridges, fits comfortably in your pocket

Built-in 450mAh battery with pass-through charging (i.e., you can use it while charging)

Dimensions: 4.2″ (L) x 0.5″ (W)
The Vuber Pulse Battery Line
So How Does The Vuber Pulse Touch Vape Pen Work?
Once you've screwed in your oil cartridge (no magnetic adapters required), you can operate the PULSE TOUCH in two ways:
Standard Mode: Tap the photo induction touch plate five times quickly to turn the Pulse Touch on. Then, simply start drawing, and you'll enjoy the delicious flavor and aroma of your oil cartridge. The Pulse Touch will automatically adjust the voltage based on the type of oil cartridge installed to optimize your experience.
Boost Mode: Want a bigger blast of vapor! Well, the designers at Vuber thought of that and included a 'power boost' mode for those times when you want BIG vapor. To enable, tap the button three times and you'll see the LED illuminate a white color for a few seconds. Then, hold your finger on the button while inhaling (for up to 15 seconds) – it's that simple! 
Wax Atomizer Option
For the waxy concentrates enthusiasts, Lord Vaper brings you the ZOLO-C, the latest in compact, ultra-affordable 510 thread wax atomizers. Designed to screw into the Vuber Pulse Touch like an oil cartridge, the ZOLO-C extends the utility of the Vuber Pulse Touch to give you an inexpensive way to enjoy some yummy concentrates. Included in the ZOLO-C kit are two atomizers: a coil-less ceramic chamber (great for flavorful, smooth hits) and a single-coil Silicon Carbide/Aludirome combination (great for those enjoying strong, big cloud hits). Click HERE for more details on the ZOLO-C.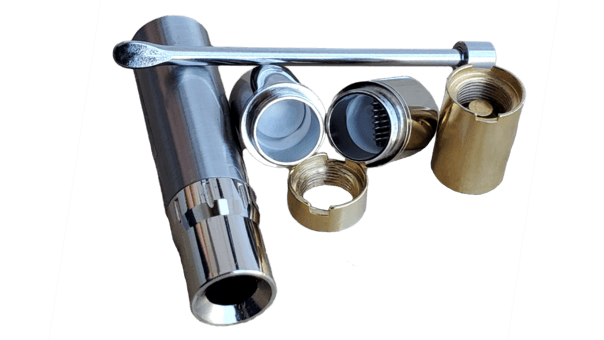 Other Oil Cartridge Battery Choices
If the Vuber Pulse Touch oil cartridge vape pen isn't what you're looking for, check out Lord Vaper Pen's many other choices

HERE

!