The Yocan UNI Pro box mod battery features several upgrades that take the UNI variant to a whole new level! The UNI Pro is now capable of precise voltage adjustment. This means that you get to choose the temperature you want to vaporize your oils or concentrates at, and you can do that with accuracy and with precision. Equipped with new buttons laid out conveniently for you to select and change the voltage level, the Yocan UNI Pro box mod delivers precise temperature selection without the fuss. You can see all the changes you've made on the crisp OLED screen attached to the side of the Yocan UNI Pro box mod. You can also check other settings and statuses from the OLED screen, so you're always in the know of what's happening. Truly, the built-in OLED screen gives the Yocan UNI Pro box mod a more premium feel. To match these new enhancements on the Yocan UNI, we've made the Pro version look sleeker and sharper than ever. We've replaced rounded edges with sharp corners for a more aggressive look. Something that resembles the actual power and capability that the Yocan UNI Pro box mod battery offers.
Features
NEW! Precise voltage settings with 0.1V increments from 2.0V to 4.2V!
NEW! Crisp OLED display with all the information that you need to know!
IMPROVED! Oil cartridge opening increased to 14mm to fit all cartridge widths!
Discreet design, edgier look, lightweight, easily fits in the palm of your hand

High protection value for your cartridges, fits easily in your pocket

10 second preheat option (Two clicks for automatic preheat)
15 second automatic shut-off
Magnetic connection firmly holds the cartridge
Built-in 650mAh battery
Dimensions: 3″ (H) x 1.4″ (W) x 1″ (D)
When Voltage/Temperature Precision Matters
We know that some consumers prefer using oil cartridge box mod batteries that have preset voltage settings. No need to worry about having to deal with complicated settings or convoluted contraptions. All you need to do is press the buttons to toggle through the preset settings and start pulling from your vaporizer once you've found the right temperature setting you need.
However, we do acknowledge that there are some who have developed a distinct and more unique preference in consuming oils and concentrates. These individuals are commonly after the more refined tastes and experiences from select materials and require a more precise kind of heating. This is why Yocan developed a "Pro" version of the Yocan UNI oil cartridge battery so that we can also accommodate the needs of those who need professional-level vaporization.
Furthermore, the Yocan UNI Pro box mod battery is capable of delivering precise temperature levels, allowing you to easily find that sweet spot. For those looking for a subtle experience with vapors packed with flavor, they can tune their Yocan UNI Pro oil cartridge battery to lower voltage settings for low and slow vaporization. Those who are after mild euphoria can take it to the middle area, and those seeking an extremely potent experience from their materials can crank the voltage up. Remember, precision voltage levels mean that all your sessions are unique. While preset temperature levels present a more generic vaping experience, precise voltage levels allow you to fully customize and personalize your sessions.
OLED Screen Gives You The Details
Now, understanding your Yocan UNI Pro box mod battery is made easier and more intuitive with its crisp OLED screen. The OLED screen reveals easy to understand icons that make reading and understanding the Yocan UNI Pro oil cartridge battery easier. Even beginners with no prior experience to vaping can easily pick up a Yocan UNI Pro oil cartridge battery and easily understand the OLED notifications. Details like battery level and voltage levels are displayed conveniently on the OLED interface. You can also see the device visually give you representations of statuses like pre-heating, voltage setting, atomizer resistance (Ohms), session timer, etc. Instead of guessing what's happening to your vaporizer, the OLED screen displays the status in a more legible and understandable layout.
Powerful, Portable and Sleeker Than Ever
While the Yocan UNI Pro oil cartridge battery is packed with some of the best features an oil vaporizer battery can have, it still retains a compact and portable body. It easily fits in your pocket, and still small enough to have that level of discreteness and concealability in the palm of your hand that you want in an oil cartridge battery.
The more aggressive look, gives the Yocan UNI Pro oil cartridge battery sharper edges, allowing you to easily grip the Yocan UNI Pro. The power button is still placed and positioned so that it can easily be operated without having to stress your hands and your fingers. It was designed to be a compact and portable vaporizer that consumers can take with them wherever they may go.
Wax Atomizer Option
For the waxy concentrates enthusiasts, Lord Vaper brings you the ZOLO-C, the latest in compact, ultra-affordable 510 thread wax atomizers. Designed to drop into the Yocan UNI Pro like an oil cartridge, the ZOLO-C extends the utility of the Yocan UNI Pro oil cartridge battery to give you an inexpensive way to enjoy some yummy concentrates. Included in the ZOLO-C kit are two wax atomizers, a coil-less ceramic chamber (great for flavorful, smooth hits) and a single-coil Silicon Carbide/Aludirome combination (great for those enjoying strong, big cloud hits). Click HERE for more details on the ZOLO-C Wax Atomizer.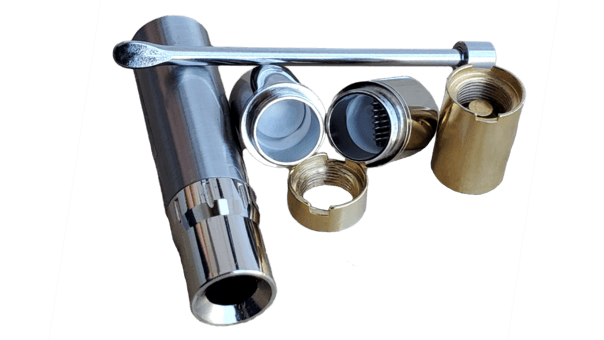 Other Oil Cartridge Battery Choices
If the Yocan UNI Pro Oil Vaporizer battery isn't what you're looking for, check out Lord Vaper Pen's many other choices HERE!