Features
Discreet design, edgier look, lightweight, easily fits in the palm of your hand

High protection value for your cartridges, fits easily in your pocket

10 second preheat option (Two clicks for automatic preheat)

3 voltage settings: 2.5V, 3.0V and 3.5V

15 second automatic shut-off

Magnetic connection firmly holds the cartridge

Built-in 400mAh battery

USB Type-C fast charging technology

Dimensions: 2.4″ (H) x 1.25″ (W) x 0.9″ (D)
Oil Cartridge Size Compatibility
One of the best features of the Yocan UNI product line is the adjustable oil cartridge locking feature. Having the ability to accept up to a 12mm diameter oil cartridge, and lock it securely into the UNI S, is definitely one of its key selling features. And, the UNI S has the same 3-step height adjustment found in the other UNI products.
USB-C Technology
It's Murphy's Law, just when you're ready to go, you find out that your battery has a low charge. Well, that typically meant you'd be waiting at least one hour for a full charge. That's not the case with the UNI S, since Yocan switched to the USB-C fast charging technology. Not only will the UNI S charge blazingly-fast, it'll also get a more stable charge that'll reduce the potential for early failure of the battery. 

Compact, Portable and Sleeker Than Ever
Size does matter, so the Yocan engineers went to work miniaturizing the hugely-popular Yocan UNI, with the goal of keeping all of the great features, but packing them into a shell that's more than 20% smaller. Now, the Yocan UNI S is even more pocketable and discreet than the original compact Yocan UNI. So, if you're wanting to keep your consumption as discreet as possible, the UNI S should definitely be in your collection for daily use. Yocan also designed the UNI S with a more aggressive look, giving it sharper edges, allowing you to easily grip it. The power button is still positioned so that it can easily be operated without having to stress your hands and your fingers.
Wax Atomizer Option
For the waxy concentrates enthusiasts, Lord Vaper brings you the ZOLO-C, the latest in compact, ultra-affordable 510 thread wax atomizers. Designed to drop into the Yocan UNI Pro like an oil cartridge, the ZOLO-C extends the utility of the Yocan UNI Pro oil cartridge battery to give you an inexpensive way to enjoy some yummy concentrates. Included in the ZOLO-C kit are two wax atomizers, a coil-less ceramic chamber (great for flavorful, smooth hits) and a single-coil Silicon Carbide/Aludirome combination (great for those enjoying strong, big cloud hits). Click HERE for more details on the ZOLO-C Wax Atomizer.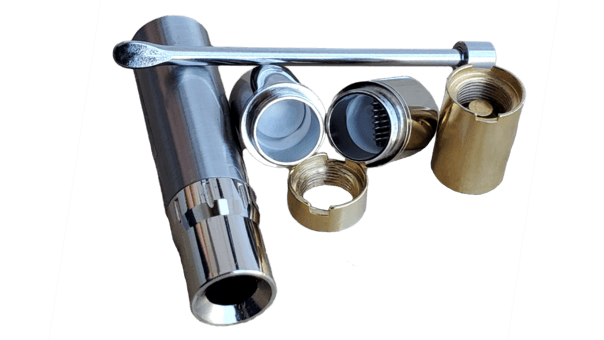 Other Oil Cartridge Battery Choices
If the Yocan UNI S box mod battery isn't what you're looking for, check out Lord Vaper Pen's many other choices HERE!