Features
Universal 510 connection supporting a huge 14mm diameter opening

Versatile output control: 5.0W-15.0W / 1.22V-4.72V

Variable voltage adjustment in precise 0.1W Increments

Beautiful OLED screen displays battery life, voltage/wattage output, coil rating

Portable size for discreet travel sessions

Premium heavy duty build

High protection value for your cartridges

Powerful and long-lasting 650mAh Lithium-ion battery

Dimensions:  2.5″ (H) x 1.57″ (W) x 0.8″ (D) / 63mm x 40mm x 20mm
When Voltage/Temperature Precision Matters
We know that most consumers prefer using oil cartridge batteries that have just a few preset voltage settings. And, in general, that's all you need to enjoy most oil cartridges available from the dispensary. However, we do acknowledge that there are some who have developed a distinct and more unique preference in consuming oils and concentrates. These individuals are commonly after the more refined tastes and experiences from select materials and require a more precise level of control. This is exactly what you'll find with the Vivant VAULT variable voltage oil vaporizer, the ability to control the voltage/wattage across the widest range available in the market. At the low-end of the temperature range, you'll experience vapor packed with flavor with low and slow vaporization. Those who are after mild euphoria can take it to the middle area (e.g., 3.4V), and those seeking an extremely potent experience from their materials can crank the voltage up. Remember, precision voltage levels mean that all your sessions are unique. While preset temperature levels present a more generic vaping experience, precise voltage levels allow you to fully customize and personalize your sessions.
Wax Atomizer Option
For the waxy concentrates enthusiasts, Lord Vaper brings you the ZOLO-C (see picture below), the latest in compact, ultra-affordable 510 thread wax atomizers. Using the smaller VAULT magnetic adapter, the ZOLO-C drops into the VAULT like an oil cartridge – extending the usage of the VAULT to give you an inexpensive way to enjoy some yummy concentrates. Included in the ZOLO-C kit are two wax atomizers: 1) a coil-less ceramic chamber (great for flavorful, smooth hits); and 2) a single-coil Silicon Carbide/Aludirome combination (great for those enjoying strong, big cloud hits). Click HERE for more details on the ZOLO-C Wax Atomizer.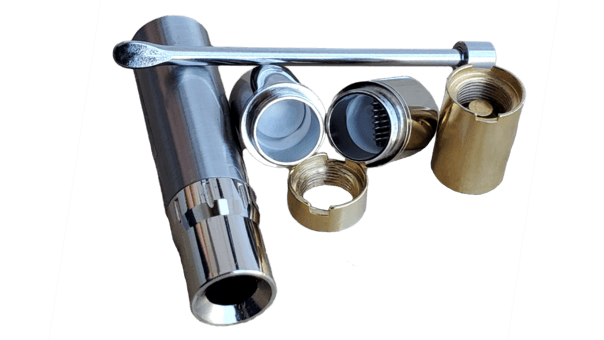 Other Oil Cartridge Battery Choices
If the Vivant VAULT Oil Vaporizer battery isn't what you're looking for, check out Lord Vaper Pen's many other choices HERE!